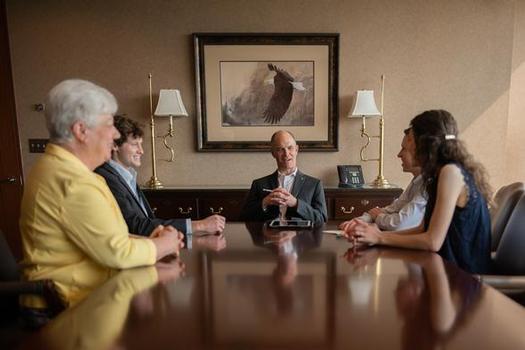 Trust & Clarity
About Our Firm
When it comes to income, retirement, estate, business and philanthropic planning, many families and business owners have excellent professional advisers in place, but for some reason have either not completed, or have gaps in their financial strategies.
At Enna & Associates, it is our mission to be the catalyst in the planning process. We help our clients clarify their unique planning objectives, then work with them and their advisers to take action to close the gaps and complete the plan. We are committed to developing strong, long-term relationships with our clients, and their families, businesses and advisers, while striving to exceed expectations.
With over 26 years' experience as a financial adviser, and the solid resources available to Rick as a Nautilus Group member agent, combined with the dedicated support of local support staff, our firm delivers a high quality consultative process to put our client's plans on firm ground.
Our Expertise
Rick Enna is a member agent of The Nautilus Group®, a service of New York Life Insurance Company. The Nautilus Group® comprises a select national membership of more than 200 highly skilled and experienced Nautilus member agents who work hand in hand with an in house team of specialists in tax, law, life insurance, accounting and charitable giving. Together, Nautilus member agents and The Nautilus Group® professional staff design customized strategies in the following key areas:
Family protection
Estate and Legacy Planning
Business Succession and Exit Planning
Executive Benefits
Philanthropy
Employing a consultative process, Rick and The Nautilus Group® professional staff will collaborate with the client and the client's circle of professionals to help clarify and achieve the objectives most important to the client and their family. Peace of mind is the goal!
Since every client has unique requirements, Rick employs an individualized case development strategy. He will engage in an open dialogue that focuses on a client's goals, challenges, opportunities, and dreams.
Only after achieving a better understanding of your particular issues, Rick and the professional Nautilus Group® staff will begin to:
Examine legal documents
Present and project a client's current situation
Quantify planning alternatives
Suggest alternative strategies that may get a client closer to their goals
Research and assess current legal issues
Provide product suggestions as needed
Rick incorporates several specific steps to create an individualized plan of action:
Clarify a client's desired outcomes
Create client analysis
Take appropriate action
As a client's objectives and life situation changes, Rick and his operation will be with them every step of the way to keep them on track.
By using a combination of knowledge, expertise and resources, Rick is eminently qualified to accompany a client on their journey to achieve the goals set for them and those they love. Whatever a client's needs, Rick can help them realize their vision.